International Farm Management Congress
RightRisk Pre-Congress: Tools for Risk Management Educators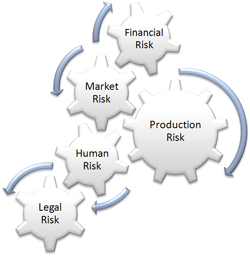 RightRisk LLC is excited by the opportunity to partner with the leadership of the International Farm Management Association (IFMA) to offer a pre-congress conference as part of the next biennial Congress 'Agriculture: Food, Fiber and Energy for the Future'.

The 17th International Congress will take place in July, 2009 in Bloomington/Normal Illinois. Click here for more details about the Congress and associated tours.
RightRisk LLC members have made presentations at past Congresses, most recently in Cork, Ireland. At that meeting delegates requested that a pre-congress be organized for the Bloomington/Normal Congress, to be held in 2009.

The IFMA-17 pre-congress will not only provide participants an overview of three, innovative RightRisk educational products, but also to provide the tools necessary to allow participants to make similar presentations to clients back home. Products selected for presentation have been used extensively with audiences across the U.S.A. The approach used will be hands-on and interactive in nature.

Tools for Risk Management Educators will present Risk Navigator-SRM - a 10-step strategic risk management process; Ag Survivor - a farm risk simulation helping participants explore risk management options for typical western U.S. farms/ranches; and Feasibility of Alternative Rural Enterprises - a course to help operators explore new enterprises and business opportunities.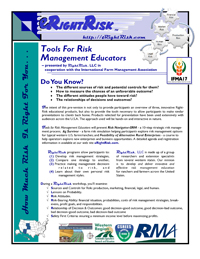 Specific educational objectives for Tools for Risk Management Educators include:
Provide an understanding of risk and risk management.
Learn how to determine risk tolerance.
Explore using probabilities to choose among risk management strategies.
Understand the process of determining the feasibility of alternative enterprises.
Assess personal skills and attitudes towards alternative enterprises.
Provide an overview of RightRisk LLC education and consulting products, including:

A strategic risk management process
"Ag Survivor"
Web and CD-based courses
Educational workshops (self-styled) for farmers and ranchers
Train-the-Trainer seminars and workshops
Economic assessments
Consulting with individual firms and organizations
Click here for a copy of the Tools for Risk Management Educators pre-congress flyer.
| Background | Agenda | Presenters | Registration Details | Contacts |
IFMA17 Pre-Congress: Tools for Risk Management Educators
Day / Time
Activity
18 July, 2009
9:00 - 9:20
Welcome and Introductions
9:20 - 12:00
Risk Navigator-SRM: A Process for Strategic Risk Management

Financial Health Check-up
Risk Preferences
Setting Goals
Prioritizing Risks
Tools & Strategies
Determining the Probability of Risk Outcomes
Choosing Among Alternatives
Implementing Plans
Monitor and Adjust Plans

12:00 - 12:45
Lunch (provided)
12:45 - 14:30
Ag Survivor

Hands-on Simulation Risk Management Software
Compare Risk Management Strategies
Friendly Team Competition
Interactive Learning Environment

14:30 - 14:45
Break
14:45 - 15:45
Feasibility of Alternative Enterprises

Alternative Enterprise: What Does It Mean
Personal Assessment (Goals, Characteristics, and Skills)
Production Assessment (Physical Requirements)
Market Assessment (Customers, Market Potential, Competitive Advantage)
Economic Assessment

15:45 - 16:30
Educational Products by RightRisk, LLC
16:30
Seminar Concludes
| Background | Agenda | Presenters | Registration Details | Contacts |
Jeffrey E. Tranel
Jeff Tranel was raised on a large commercial and purebred cattle ranch in south central Wyoming and northwestern Colorado. He became a certified artificial insemination technician at age 17, and has exhibited cattle and horses at county, state, and national livestock shows. Jeff was a member of the University of Wyoming livestock judging team and of 4-H and FFA livestock and dairy judging teams in county, state, and national competitions. He served a beef superintendent at the Colorado State Fair from 1995 through 2002.
Jeff earned B.S. and M.S. degrees in Agricultural Economics from the University of Wyoming. He then consulted with Wyoming Citizens for Wyoming Water (Political Action Committee) serving as liaison with the Wyoming Secretary of State and the media. Tranel began his Extension career in Nebraska working with farm and ranch families during the "Farm Crisis" of the 1980's. He then moved to Colorado to serve as Fieldman with the Southeast Farm Business Association - a farm management outreach effort of Colorado State University. Since 1994, Jeff is an Agricultural and Business Management Economist with a joint appointment with Extension and the Department of Agricultural and Resource Economics. Mr. Tranel serves as co-coordinator of the award winning ABM Team and leader of CSU Extension's Sustainable and Profitable Ag core competency area.
Mr. Tranel's professional focuses are primarily in the areas of financial management, risk management, accounting and record keeping, income taxes, organizational structures, and water issues. He has worked with more than 1,100 individual farmers and ranchers during his career. He has co-authored two books and numerous fact sheets, refereed journal articles, and other publications used by farmers, ranchers, and small business owners across the United States. Jeff has received numerous honors and awards for his work with farm and ranch families. For more information about Jeff, please visit his website at http://coopext.colostate.edu/tranel/.

Rodney L. Sharp
Rod Sharp is an agricultural and business management economist with Colorado State University Extension and the Department of Agricultural and Resource Economics. He is responsible for educational efforts on the topics and issues of farm and ranch management. His professional interests are in farm and family financial management, business and enterprise analysis, risk management, and feasibility analysis of alternative enterprises.
Rod has been asked to participate in many state, regional, and national projects. He chaired a multi-state effort to study entrepreneurial agriculture and forestry enterprises in the west. He is co-coordinator of the award winning Agricultural and Business Management Team at Colorado State University. Other projects include Risk and Resilience in Agriculture, RightRisk, New Gates Through Old Fences, Standardized Performance Analysis for Sheep and Cattle Producers, and Value Added Toolbox for Agricultural Producers.
Rod has been recognized with numerous individual and team awards during his career. He participates on several multi-state committees and workgroups. Mr. Sharp has authored or co-authored numerous resource manuals, fact sheets, spreadsheet templates, articles, web courses, and newsletters.
Rod was raised on a cattle and sheep ranch in northeastern Colorado. He earned Bachelor's degree in Agricultural Business and a Master's degree in Agricultural Economics from Colorado State University.

John P. Hewlett
John Hewlett is a Farm/ranch Management Specialist at the University of Wyoming and Coordinator of the Wyoming WIRE program, as well as Regional WIRE efforts. He grew up in Washington State, where he worked eight years (four as foreman) on a large stocker-cattle/crop operation. John holds a BS degree in Agricultural Business from Montana State University and a M.S. degree in Agricultural Economics from Oregon State University. He came to the University of Wyoming, Department of Agricultural and Applied Economics in 1987. Since then he has been involved in a number of state and regional extension programs, receiving five Western Agricultural Economics Association awards, two UW Cooperative Extension awards for creative excellence, the Jim DeBree Award for Excellence in Cooperative Extension, and one American Agricultural Economics Association award for professional excellence. John's current extension interests include integrated strategic management, risk management, enterprise budgeting, financial analysis, agricultural recordkeeping, and applications of technology in agricultural.
John is a founding member/owner of RightRisk LLC, a company formed for purposes of educational programs research, development and delivery in non-member states. Some of the more popular program topics include: risk management presentations using the Ag Survivor simulation, specific federal insurance products, various tools for risk management, and Risk Navigator-SRM a holistic process for risk management developed for the proactive risk manager.
John currently operates a ranch with several animal-based enterprises located outside of Laramie, Wyoming with his wife and seven children. For more on John, visit his web site at: http://agecon.uwyo.edu/agecon/aboutus/facultystaff/hewlett.htm.

| Background | Agenda | Presenters | Registration Details | Contacts |
What:
A one-day, International Farm Management Association Congress 17 pre-congress seminar:
Tools for Risk Management Educators

Presentation of three RightRisk products: Risk Navigator-SRM, Ag Survivor, and Feasibility of Alternative Enterprises.
A short presentation will be offered at the conclusion providing a brief introduction to other available RightRisk products.
Lunch and breaks, as well as copies of all workshop handouts are provided for each full-price registration.
Lunch and breaks are provided for each reduced-price registration.

When:
18 July, 2009 from 09:00 - 16:30

Where:
The Doubletree Hotel in Bloomington/Normal, Illinois U.S.A.

Cost:
(Registrations received before 16 May, 2009)
Full-price registration
RightRisk Pre-Congress Seminar:
Covers lunch, breaks, and
all workshop handouts-
US$500.00
Accompanying person registration
RightRisk Pre-Congress Seminar:
Covers lunch and breaks only- US$250.00

Payments by PayPal ~ offering industry-leading
safeguards for online purchases via credit card or PayPal account..



Contacts for more information:
Jeffrey Tranel, jtranel@eRightRisk.com, (719) 251-0990
Rod Sharp, rsharp@eRightRisk.com, (970) 250-2388
John Hewlett, jhewlett@eRightRisk.com, (307) 760-9515

| Background | Agenda | Presenters | Registration Details | Contacts |